Welcome!
The Anoka County Minnesota Kennel Club (ACMKC) is a club dedicated to furthering the advancement of American Kennel Club (AKC) registered purebred dogs.  We also welcome companion dogs to join us in our events.  We're just a short trip to Anoka, north of the Twin Cities (Minneapolis and St. Paul, MN).Find us directly at acmkc.com or acmkc.org
---
                                               Our Mission
We are an AKC club, which works toward the betterment of purebred and companion dogs through a variety of competitive events, training, and promotion of the health and safety of dogs throughout the area.
---
Our club members participate in many AKC events and Canine Performance Events (CPE) including agility, barn hunts, conformation, obedience, rally, weight pulling, and other competitive events.  We partner every June with the Cambridge Minnesota Kennel Club for the Summer Solstice Cluster of Dog Shows.
Down Time with Our Crew
Update on the Re-Unite Trailer!
Our volunteer crew working with the AKC Re-Unite Trailer on making it fully prepped and ready to go in the event of an emergency.  Interested in learning more?  Check out our page on the Trailer: AKC Disaster Relief Trailer
Summer Solstice Cluster of Dog Shows
We are beginning preparations for this year's show! This year's events include:
NEW 2018: Fast CAT Lure Course
Are your Junior Handlers outgrowing their show clothes? Come see our Junior Handlers Clothing Drive at the Junior Handlers Booth in the Vendors Building.
We have multiple Health Clinics available during the week. 
Eye Clinic Friday & Saturday    Cardiac Clinic Saturday     Patella Clinic Saturday    Microchip Clinic Saturday
Check the show program or our Summer Solstice page for times and places.
Junior Handling Workshop on Showmanship and Judging Seminar Saturday
National Owner-Handled Series available all four days!
We need RING STEWARDS. If you are interested in helping, we offer positions for a few hours or for all four days.  We also provide training.  If interested, please email summersolsticestewards@gmail.com
Please join us on June 21-24, 2018!
Are your child(ren) and dog(s) best friends?  Come see the Junior Handlers in action! We're always looking for new young handlers to join the fun!
We also have a scholarship program for students living in Anoka County.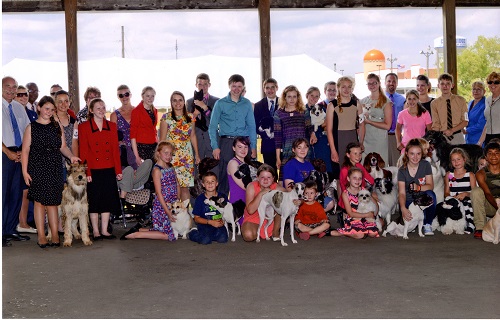 Interested in joining our club?
We hold monthly meetings at Ramsey Municipal Center, 7550 Sunwood Dr NW, Ramsey, MN 55303 on the third Wednesday of each month from 7-8:30 PM.  These meetings are open to everyone.  Please come have fun and find out more about us!
We meet on the third Wednesday of each month.  Find us in the Alexander Ramsey Room at the Ramsey Municipal Center.
Board meetings are every other month prior to the regular monthly meetings.  All Members are welcome to join us.