Welcome!
The Anoka County Minnesota Kennel Club (ACMKC) is a club dedicated to furthering the advancement of American Kennel Club (AKC) registered purebred dogs.  We also welcome companion dogs to join us in our events.  We're just a short trip to Anoka, north of the Twin Cities (Minneapolis and St. Paul, MN).Find us directly at acmkc.com or acmkc.org
---
                                               Our Mission
We are an AKC club, which works toward the betterment of purebred and companion dogs through a variety of competitive events, training, and promotion of the health and safety of dogs throughout the area.
---
Our club members participate in many AKC events and Canine Performance Events (CPE) including agility, barn hunts, conformation, obedience, rally, weight pulling, and other competitive events.  We partner every June with the Cambridge Minnesota Kennel Club for the Summer Solstice Cluster of Dog Shows.
HIGHWAY CLEANUP DATE
   Come and help us with our spring Highway Clean-up.
Date:  April 29, 2017
Time:  10:00 am
Place to meet:  Dental Office on the corner of Highway 5 and Alpine St.
Remember:  Bring your own gloves and walking shoes.
     This should take about 2 hours as long as we have enough help.  After the job is completed,  we will meet at the Penalty Box Restaurant.  Lunch is on the club.
Please let Sara Peterson know if you plan to attend.  See you there!!!!!
---
slideshow_deploy id='1454′]
Thank you for all your input and suggestions to make the show next year even better.
Pictures from this year's show have been updated on our Summer Solstice page.
One of our Judges – Michael Falkner – included some thoughts about our show in an article he wrote:
"I stress the words hospitality and organization! Very few clubs offer the level of attention and detail that we experienced.  Our experience was not enhanced by a select few, but from a whole group of dedicated fanciers, young and old, who executed their respective roles to perfection to put on one hell of a great show.  Young adults filled with PASSION and Pride for the sport helped cater the rings, fill ice buckets, deliver drinks, clear tables and greet judges/exhibitors. The Summer Solstice Cluster is living proof that young people are active participants in the sport, if cultivated and appreciated.  The show site, the flowers, the ring stewards, the food (gluten free options too), the quality entry all combined for a glorious experience that oozed with PRIDE and PASSION …
Our sense of PRIDE is tied to the PASSION or the "Fire within". If we as judges, exhibitors, club members, junior handlers, breeders, and professional handlers all take PRIDE in our various dog-show roles, we will be automatically filled with PASSION. AT the same time, we will not be foolhardy to ignore the PERILS of the DOG SHOW challenges.  And it you are not exactly sure how to achieve this—attend the SUMMER SOLSTICE CLUSTER 2017 and learn how to celebrate your breeding stock, dance to music and experience hospitality like no other.  Just be cautious of the red wine. "
–          An excerpt from Michael Falkner, "The Sunny Side Of Judging: Pride, Passion And Perils." DN Magazine Volume 1 Number 6, July 15, 2016. page 62. Reprinted with consent from DN Magazine and Michael Falkner. 
Hope to see you in 2017 for another great show!
---
Are your child(ren) and dog(s) best friends?  Come see the Junior Handlers in action! We're always looking for new young handlers to join the fun!
We also have a scholarship program for students living in Anoka County.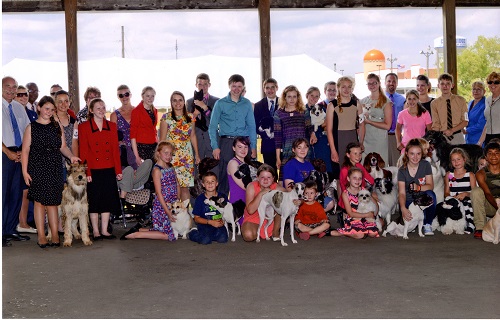 Interested in joining our club?
We hold monthly meetings at Ramsey Municipal Center, 7550 Sunwood Dr NW, Ramsey, MN 55303 on the third Wednesday of each month from 7-8:30 PM, beginning Feb. 17, 2016.  These meetings are open to everyone.  Please come have fun and find out more about us!
We meet on the third Wednesday of each month.  Our next monthly club meeting will be on April at 7pm. At: Alexander Ramsey Room at the Ramsey Municipal Center.
Board members please attend the meeting at 6:00 pm for all board members.  All Members are welcome to join us.
---