Welcome!
The Anoka County Minnesota Kennel Club (ACMKC) is a club dedicated to furthering the advancement of American Kennel Club (AKC) registered purebred dogs.  We also welcome companion dogs to join us in our events.  We're just a short trip to Anoka, north of the Twin Cities (Minneapolis and St. Paul, MN).Find us directly at acmkc.com or acmkc.org
---
                                               Our Mission
We are an AKC club, which works toward the betterment of purebred and companion dogs through a variety of competitive events, training, and promotion of the health and safety of dogs throughout the area.
---
Our club members participate in many AKC events and Canine Performance Events (CPE) including agility, barn hunts, conformation, obedience, rally, weight pulling, and other competitive events.  We partner every June with the Cambridge Minnesota Kennel Club for the Summer Solstice Cluster of Dog Shows.
Let's try this picnic again
Hopefully with better weather.
August 16 at 7pm we will be gathering for our monthly meeting and annual picnic!
Please bring something to share with everyone!
Also, please use whatever power you have to ask for good weather!
---
 – Our Annual Summer Picnic
Time:  7-8:30 PM
Place to meet:  Peninsula Point Park (same as last year).  Address is 1460 S Ferry St, Anoka MN 55303
Members Remember:  Bring along your favorite dish to share.
Anyone Interested in Attending:  Bring along your appetite!
All are welcome to attend. Come meet and greet with our members!
Sept. 30 – Our Annual Highway Cleanup
Time:  10:00 am
Place to meet:  Dental Office on the corner of Highway 5 and Alpine St.
Remember:  Bring your own gloves and walking shoes.
This should take about 2 hours as long as we have enough help.  After the job is completed,  we will meet at a local restaurant for lunch.  Lunch is on the club.
See you there!!!!!
---
NEW FOR 2017
Anoka County Minnesota Kennel Club now has an official AGILITY TRIAL this December!
Our new Agility Trial is this December 9-10
Where: Fusion Pet Retreat
14901 Minnetonka Industrial Rd
Minnetonka MN 55345
Judge: Mark Upshaw
Opening Date – Wednesday, October 11, 2017 at 8AM
Draw Close Date – Wednesday October 25, 2017 at 5PM
Check www.akc.com for more information on registering for this event.
---
Summer Solstice Cluster of Dog Shows
Thank you for another great year!  We look forward to seeing you again at next year's show!
Thank you to all who attended our Cancer Fund Raiser Benefit and helped with our raffle. We were able to raise $3000 in donations for the Cancer Fund thanks to your generous gifts.
Please join us next year in celebration on June 21-24, 2018!
Pictures from our latest show have been updated on our Summer Solstice page.
---
Are your child(ren) and dog(s) best friends?  Come see the Junior Handlers in action! We're always looking for new young handlers to join the fun!
We also have a scholarship program for students living in Anoka County.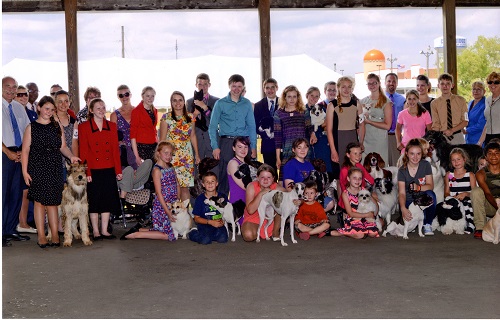 Interested in joining our club?
We hold monthly meetings at Ramsey Municipal Center, 7550 Sunwood Dr NW, Ramsey, MN 55303 on the third Wednesday of each month from 7-8:30 PM.  These meetings are open to everyone.  Please come have fun and find out more about us!
We meet on the third Wednesday of each month.  Find us in the Alexander Ramsey Room at the Ramsey Municipal Center.
Board meetings are every other month prior to the regular monthly meetings.  All Members are welcome to join us.
---